Most Common Types of Personal Injury Claims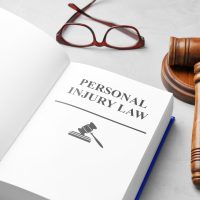 Personal injury claims can arise whenever someone's wrongful act or omission causes someone else physical harm. The majority of personal injury claims result from negligence or recklessness–meaning unintentional harm. Victims of intentional harm, such as criminal assault, can also sue for damages. Below, we discuss the most common types of personal injury cases that can arise from varying degrees of negligence or recklessness. Read on to learn about the most common types of personal injury cases, and call a knowledgeable Southern California personal injury lawyer for help with a personal injury claim in Los Angeles or Orange County.
Traffic Accidents
Car crashes, truck crashes, bike accidents, motorcycle collisions, and other forms of traffic accidents make up a large portion of personal injury claims and lawsuits. If one person causes a car crash through negligence, reckless behavior, or intentional malice, and that crash injures someone else–be they another driver, a passenger, a pedestrian, etc.–the injured victim can sue the at-fault driver for compensation.
Slip and Fall and other Premises Liability Injuries
A slip and fall claim is a form of premises liability. Premises liability claims are available when a person is injured on someone else's property and the injury occurred because of the owner/operator's negligent acts or omissions. Typically, the plaintiff will need to demonstrate that the premises had a dangerous hazard, the owner or operator knew or should have known about the hazard, and the owner/operator failed to either remedy the hazard or adequately warn guests of the hazard (such as by placing a warning sign). When a grocery store employee spills a gallon of milk, for example, and fails to either clean the spill or place a "wet floor" sign in plain sight, a customer who slips on the spill may have a claim based on any injuries they sustain. Premises liability cases also include dog attacks, inadequate security that leads to a criminal assault, swimming pool accidents, and construction site accidents.
Products Liability
Products liability claims are based on defects inherent in a product's design or manufacture, including a failure to warn of known dangers. For example, if a car is built with an airbag that fails to deploy, an injured driver may have a claim against the auto manufacturer. Products liability claims can be based on any products sold to consumers, including electronics, home appliances, vehicles, children's toys, as well as things like cosmetics or prescription drugs. If a company distributes a prescription drug without warning patients and physicians of possible side effects, for example, an injured plaintiff might have a defective product claim.
Medical Malpractice
A medical malpractice claim arises when a physician, nurse, hospital, or other medical professional causes harm to a patient by way of negligence or inappropriate treatment. In order to recover, the injured patient will need to demonstrate that the medical professional's conduct deviated from the accepted medical standards, and that another medical professional in a similar situation would have acted differently. The claim may be premised on a botched procedure, a misdiagnosis, failure to diagnose, prescription error, negligent post-operative care, or other mistakes made during treatment or recovery. Machtinger Law handles medical malpractice cases that involve very large economic damages. Economic damages include past and future medical care, and past and future lost earnings.
Wrongful Death
Wrongful death is a special type of claim. Wrongful death claims can be premised on any of the types of accidents or events on which a personal injury claim could rest–car crash, slip and fall, defective medical device, etc. Wrongful death claims arise when the wrongful act or omission ultimately causes the death of the victim.
In California, a wrongful death claim can be brought by the surviving spouse, children, parents, or other heirs of a deceased victim. The plaintiffs can seek economic damages including the cost of medical bills, funeral and burial expenses, and loss of the deceased person's financial support, as well as non-economic damages including loss of the society, companionship, moral support, consortium (sexual relations), and guidance of the victim. As of 2022, California allows wrongful death plaintiffs to sue for the pain and suffering endured by the victim before they died.
Call Today for Considered Advice and Diligent Representation for Your Los Angeles Personal Injury Claim
If you or a loved one was seriously hurt due to someone else's negligence in Los Angeles, Orange County, or the surrounding areas, call Machtinger Law for advice and representation from a seasoned, effective Southern California personal injury attorney.